An extra layer of security
Multi-Factor Authentication (MFA) is now required for staff and students signing in to student apps such as iLearn and eStudent when you are NOT on the Macquarie University campus network. You will be prompted to enter the 6-digit access code from your preferred authenticator app, which can be one of the following:
Okta Verify
Google Authenticator
Authy
Microsoft Authenticator
Download and install your preferred authenticator app if you don't already have one on your device.
What is multi-factor authentication?
MFA is a security measure that requires users to provide at least two forms of identification to verify their identity when accessing an account or system. This adds an extra layer of protection against unauthorized access, reducing the risk of data breaches and cyber-attacks.
Initial set up of your MFA
If you have not previously setup MFA with okta for iLearn or eStudent, please follow the below steps to set up your MFA (takes less than 2 minutes). It is best not to use your mobile device to carry out the actions as you will need your mobile to scan a QR code at a later step.
1. Go to MFA setup page
Click on the MFA setup link (opens in new browser tab) and log in using your Macquarie student OneID and password.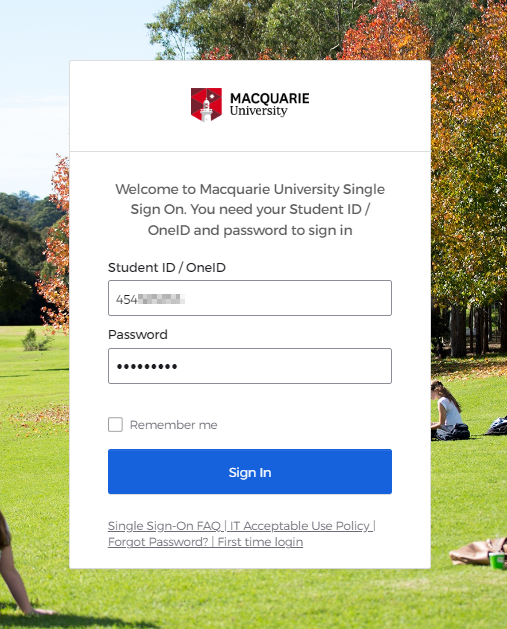 2. Click on 'Setup'
(Okta verify or Google Authenticator)
3. Select your device type
(iPhone or Android)
Please make sure that you have one of your preferred Authenticator apps installed on your mobile device (such as Okta Verify, Google Authenticator, Authy, or Microsoft Authenticator), before proceeding to the next step.
If you do not have an iOS/Android-based phone, you may use Authy app for Desktop by following the Authy desktop setup guide (requires login to OneHelp).
Click 'Next' to go to the Scan QR code page.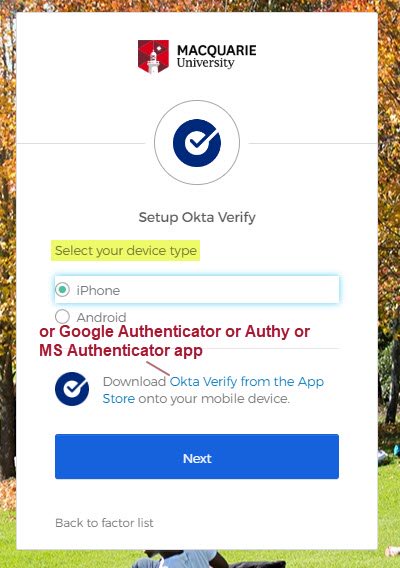 4. Scan QR code using Authenticator app (do not use phone camera app)
Shown on screen using your preferred authenticator app on your mobile device.
Open your preferred Authenticator app on your mobile device and select the option to add an account & then select option to "Scan a QR Code".
Important: Please use your authenticator app built-in scanner to scan the QR code for MFA setup, not your device's camera.
5. Enter six-digit code (OTP)
A six-digit code (one time password/OTP) will be requested on this screen. Ensure you use the six-digit code from the mq.okta.com account in your mobile phone's authenticator app, as shown in the example below.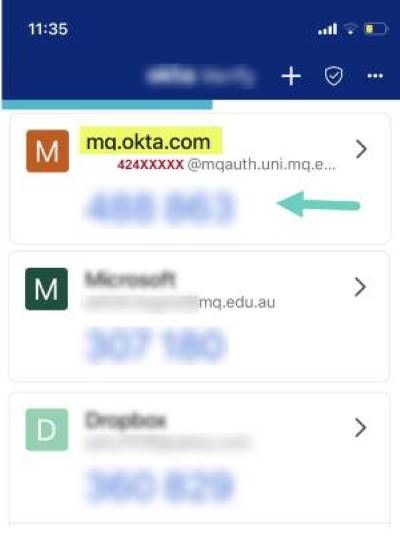 Enter the code then click on 'Verify' to proceed to the next step.
6. Click on Finish
You will see a green tick next to your chosen Authenticator app to confirm that MFA setup was successfully completed.
Congratulations! You have now successfully set up MFA.
Click on 'Finish' button to proceed to the final step.
7. Enter six-digit code (OTP)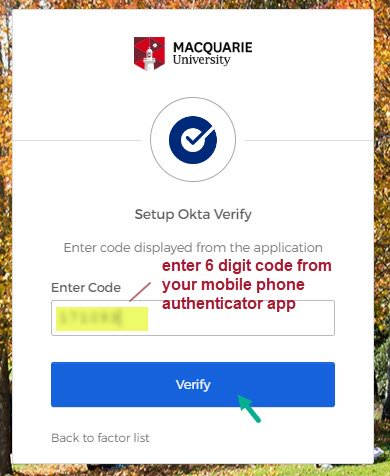 A six-digit code will be requested on this screen. Enter the 6-digit code as shown in your mobile device's authenticator app for your account. Click on 'Verify' to display the final confirmation page.
One MFA is setup, please do not delete the authenticator app as you will require it for each time you sign-in to iLearn or eStudent while you are not connected to MQ university campus network.
Once I have setup MFA successfully, what is required to login back into iLearn or eStudent?
Once you've set up Multi-Factor Authentication (MFA) and have registered an authenticator app like Okta Verify, Google Authenticator, Authy, or Microsoft Authenticator, using MFA follows these steps if you are outside the MQ University campus network:
Login as Usual using your MQ student ID and password.
Prompt for MFA Code: you'll be prompted to enter your MFA code, which is a 6-digit code.
Open Your Authenticator App: On your phone or other device where your authenticator app is installed, open the app.
Find Your Code: Inside the authenticator app, you'll see a list of accounts you've set up for MFA. Find the code that corresponds to your MQ university student account.
Enter Your Code: Go back to the iLearn or eStudent page you are attempting to login, where you see the MFA prompt and enter the 6-digit code from the authenticator app & submit. If you enter a wrong 6-digit code 5 times, your account will get locked, so please make sure you enter the correct code.
Remember, the MFA codes generated by the app are time-sensitive, so they need to be entered fairly quickly after they're generated. If you enter a code and it doesn't work, it might have expired. If that happens, simply use the new code the app generates.
Still got questions?
We've put together some MFA FAQs that might help.
IT Service Desk
Techbar
18 Wally's Walk
Macquarie University