Hone your skills with professional experience
Teacher Education Students (TES) undertake a series of professional experience placements relevant to their area of study and degree.
This site gives TES key information on the organisation of their placement.

TES should familiarise themselves with the placement system (iParticipate) and requirements for their professional experience unit. Refer to the six sections below for more information.
How to use iParticipate
iParticipate is the system used at Macquarie University to manage the allocation of TES enrolled in placement and internship units.
It links TES, staff and external organisations to ensure accurate record keeping and data collection.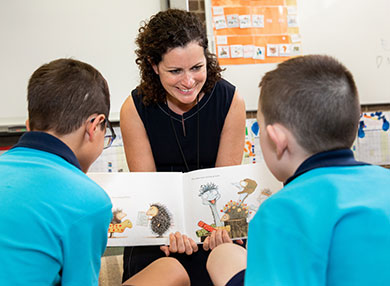 The preferencing process is completed via iParticipate.
Preferencing
Preferencing refers to the process of selecting students' preferred placement settings from an availability list. The preferencing process is conducted via iParticipate and is completed several weeks before the scheduled placement.
TES' preferences may not be guaranteed depending on the availability of placements; however, TES will be contacted by the Work Integrated Learning (WIL) office to confirm their placement offer.
Choosing your preferences via iParticipate
Ensure your residential address is updated on eStudent, as this determines which placements are visible to you.
Learn more about how to choose preferences in iParticpate.
Mandatory checks
Mandatory checks are prerequisites to verify your eligibility to complete a professional experience placement. They ensure your compliance with compulsory legal obligations.
It is your responsibility to ensure that your mandatory checks are updated on iParticipate as required (see details below). Placement information will NOT be made available until all checks are cleared.
Child Protection Awareness Training (CPAT)
Child Protection Update
Anaphylaxis Training
Working With Children Check (WWCC)
WWCC Probity Declaration form
Work, Health, Safety (WHS) form – to complete on iParticipate under 'Forms'
Professional Experience Code of Conduct – to complete on iParticipate under 'Forms'
LANTITE (Literacy and Numeracy for Initial Teacher Education Students)
Pre-Service Teacher Acknowledgement form
Student Details Update
NESA Requirement Self-Check.
Documents to download
Work placement
If you are already working as a teacher within a school or centre setting, you can apply to complete professional experience placement during your final year of study at your current place of employment.
Eligibility
Final-year TES enrolled in undergraduate or postgraduate teaching degrees are eligible to apply for work placement in their final year of study. Upon submission, each application is reviewed and assessed for its eligibility.
Application dates
You may apply for a work placement in Session 1 or Session 2 of your final year of study, prior to the respective application deadline (late February for S1; late June for S2).
Expectations during a work placement
The work placement setting must comply with the University's Professional Experience requirements. This includes adequate supervision by a qualified Supervising Teacher to ensure that you meet the Professional Experience requirements and have sufficient support throughout your placement.
If your employer continues to pay you during your professional experience, you will not be covered by Macquarie University liability insurance.
Application process
To start your application process, select the appropriate link below. Detailed instructions and required documentation are outlined in the application form.
Please note that the review and approval process may take several weeks. You will be informed of the outcome of your application via your student email address.
Primary and secondary applications
Early childhood applications
Department of Education rural placements
The Department of Education (DoE) offers a grant of $500/week to eligible final-semester TES to complete a rural placement in primary and secondary schools.
In addition, the DoE organises shared accommodation for approved TES.
Travel to and from the rural placement setting must be organised and financed by the TES. The rural placement dates run in accordance with the Macquarie University Professional Experience timetable (ie same block periods as non-rural final-semester placements).
Eligibility
Primary and secondary TES completing their final professional experience placement.
Have a paid Working with Children Check approval number.
Have completed all five mandatory DoE pre-requisites for placement.
Have applied for or are in the process of applying for Conditional Accreditation with the NSW Education Standards Authority (NESA).
Be committed to the values of public education and be eligible for employment in a NSW DoE school.
Be available for immediate employment as you have not already accepted a teaching position with a non-DoE school.
How to apply for a DoE rural placement
The WIL Team is involved in collecting Expressions of Interest from TES, which is subsequently forwarded to the DoE for review and confirmation.
If you are due to complete your final semester of study, you may apply for the rural placement grant prior to the application deadline at the end of March.
If you are in your third year of a primary or secondary teaching degree, you may apply for the third year rural placement grant before mid July. Different criteria may apply. Apply for the third year rural placement grant.
Recognition of teaching experience
Recognition of Teaching Experience (RTE) refers to relevant work experience that can be used to reduce the number of days needed to fulfill professional experience requirements. RTE was introduced and implemented as a COVID measure and will no longer be offered from 2024.
Health and wellbeing
The health and wellbeing of our students is a high priority. This page lists the resources available to you, should you require assistance while completing your professional experience placement.
Emergency contacts
Counselling
University life can be stressful. Counselling can help develop helpful behaviour and thinking to improve your mood and your ability to cope and manage stressful times. See more information about student counselling services.
Reporting injuries, hazards and safety concerns
If you have experienced an injury on placement, you need to follow these steps:
Immediately tell someone at your placement setting – your Supervising Teacher, the Practicum coordinator or another member of staff.
Inform the WIL office: arts.wil_admin@mq.edu.au.
Inform your assigned Tertiary Supervisor.
Lodge a ROAR form to report the incident.