Space for study
With five levels of space available for individual and group study, our library is the most popular place on campus for study and research.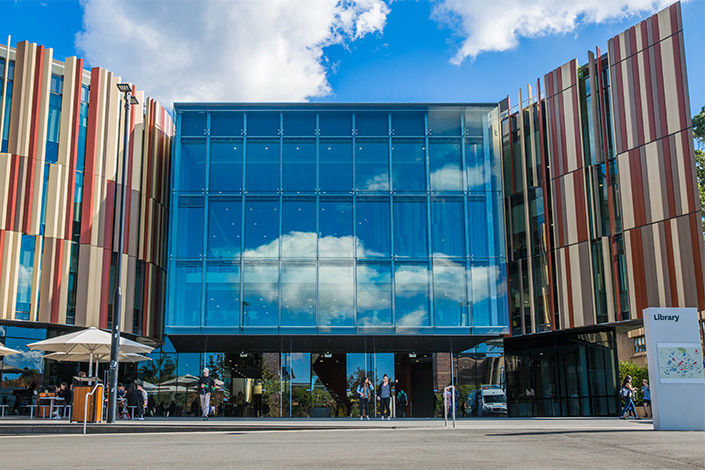 At the Library, you can find the following facilities.
Due to COVID-19 some services are limited. Don't forget you need your campus card to get into the Library.
Opening hours
Opening hours are updated regularly during Sessions 1 and 2.
Print, scan, and copy
Printing is available at affordable rates to aid your studies at Macquarie with print stations and copiers (multi-function devices) located throughout the Library.
Learn more about the academic support the Library offers to students.
Library computers
Got time between classes and want to work on an assignment?
Computers are available for your use on Level 2. To access the computers, log in with your OneID.
Laptop loans (self-service)
Study can happen anytime, anywhere. Laptops are available for short term loan on Level 3.
Laptop lockers
Individual laptop lockers are available on Level 2 for 24 hours where you can charge your laptop too. For more information, contact the service desk.
Presentation practice pods
Be it life in the classroom or beyond it, presentations and group work are an important aspect in any field. To help you practice and hone your presentation skills, the library has Presentation Practice pods on Level 1. These pods feature whiteboards and a tv screen so you can plug-in and share your presentation slides from your laptop.
Postgraduate study space
If you are enrolled in postgraduate coursework studies, Level 3 is a dedicated space for postgraduates. Due to COVID-19, there is limited seating and no lockers available.
HDR study space
The Higher Degree Research study space is located on Level 5 of the Library and is available to candidates enrolled in Higher Degree Research or Master of Research studies.
The library also offers a range of services to assist you with your research journey. We have faculty-specific research librarians who can assist you.
libMQ app
The libMQ app enables mobile access to our facilities and services.
More information
Visit our website for more information about the Library's facilities and services.