Introducing the Writing Centre
Do you want to write clearly, express yourself confidently, and bring your ideas to life?
The Writing Centre empowers you to reach your study and professional goals by developing your academic, communication, English Language and study skills.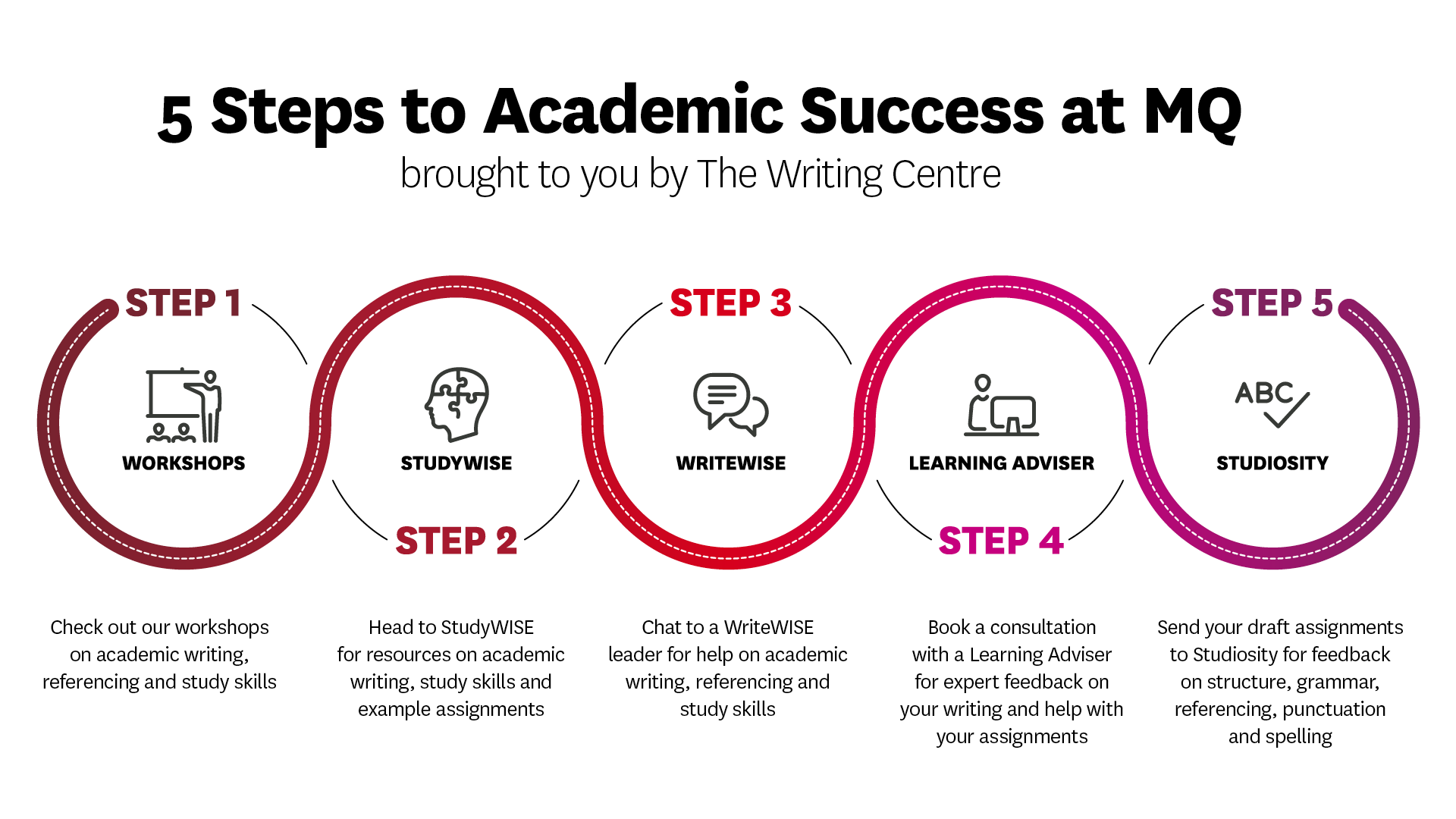 Meet the team

The Writing Centre is brought to you by the Academic Literacies Unit (formerly the Learning Skills Unit).
Robyn - Director, Academic Literacies Unit
I'm a wordsmith by trade and training. My fascination with language, literature and storytelling led me to complete a PhD in Cultural Studies, and build a 'first' career as an editor, information designer, and business writer.
To me, self-expression is fundamental to personal and professional identity. I'm passionate about equipping MQ students with the language and expressive skills necessary to realise their graduate ambitions, vocation or creative calling.
I love art, poetry and 80s music as much as I loathe runny eggs, gardening and small talk.
Caitlin - Senior Learning Adviser
I got into English teaching so I could get paid to do a bit of globetrotting, and I loved it so much I decided to make it a career. I have an MA in English Composition and am currently completing a PhD in Education.
The team at the Writing Centre is the most brilliant, caring, and downright hilarious group of educators I have ever had the privilege of working with. They are also very patient with me when I get on my soapbox about language and power, or when autumn arrives and I regale everyone with stories about long hikes in pine forests hunting for delicious mushrooms!
Daniel - Senior Learning Adviser
I'm interested (obsessed?) with all things language and literacy, applied linguistics, and sociology of education. After completing my PhD, I worked at various Australian universities before finding my home here at MQ's Writing Centre. My research investigates how language and knowledge structures influence student consciousness.
I love working here because I get to play with words all day, helping staff and students understand how language works. In my spare time, I enjoy a good beer and a good book.
Brenda - Learning Adviser
Hi, I'm Brenda!
My background is in Education and Teaching English to Adults/Speakers of Other Languages (CELTA). Before coming to Australia, I was teaching English and Academic Writing at the National University of Singapore.
I am passionate about working with students to develop their confidence and skills in learning.
My research interests include learning innovations, educational technologies, multilingualism, multiculturalism and variants of English. I love to travel and I'm very much into landscape photography.
Paul - Learning Adviser
I have degrees in Education, History and English and a PhD in Ancient History. I have taught History in both the secondary and tertiary sectors. I have found my years of scholarship very rewarding, and love to help other students develop their abilities to engage in these transformative experiences.
In my spare time I like to read horror fiction and history, and I enjoy playing board games and RPGs.
Sophie - Learning Adviser
Salut, I'm Sophie! I have a background in TESOL and communications. I really enjoy helping students achieve their goals. When I'm not working, I'm usually glued to a book, on a trail walk somewhere, travelling, practising my French or stuffing myself with viennoiseries!
Jessica - Learning Adviser
Hi! I'm Jessica.
I am a passionate lifelong learner who is dedicated to inspiring the same love of learning in students.
My academic background is in Education, English and Modern History – which is my particular interest. My PhD in History explores how representations of war impact memories of conflicts and combatants, and I am currently working on a project on African Americans and the Korean War. I have taught at several universities in Australia, including lecturing in History here at Macquarie. I am thrilled to be part of such a knowledgeable, talented and dedicated team at the Writing Centre!
When I am not at the university, you can find me running around beautiful Sydney – or chasing my children at the playground.
Chloe - Learning and Teaching Support Officer
Hi I'm Chloe. My background is in Law and Librarianship. I'm passionate about information literacy and online design. When not working I'm generally found enjoying musical theatre, reading or playing board games.