Engaging with the Indian youth on societal issues
Pravah is a leading Indian national not-for-profit organisation that works with and for young people to promote youth leadership and impact social justice issues.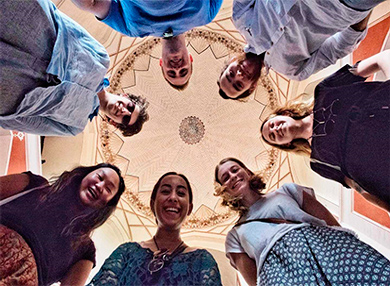 Pravah has developed a unique approach to youth development embodied in the concept of the 5th Space. They believe that as a society we have 'legitimized' four spaces for young people – that of family, friends, career / career-related education and leisure or recreation. There is on the margins – a 5th Space – a space where young people discover themselves by engaging in social action, and where they engage in active citizenship, volunteering and much more.
Pravah's programs focus on:
engaging youth in active citizenship
creating open attitudes to and responsibility for community and open spaces
developing young leaders and leadership skills, and
supporting social change initiatives developed for and by youth.
PACE activities
Law / Community engagement
A student was tasked with creating legal workshops for the MLMF (My Life, Mere Faisle) program at Pravah. After planning and development, the student-created 7 small workshops that each run for approximately 2-3 hours, to present the law in accessible and understandable ways whilst remaining engaging and fun.
HR
A student streamlined the Human Resource team's online recruitment database process and helped others to navigate the system.
Social media
A student helped to manage Pravah's social media platforms and promote the work of the organisation to stakeholders.
Event management
Students supported the mobilisation of young people for social change activities including providing leadership skills and perspective building workshops, creating a database of youth opportunities and supporting documentation/reporting of events.
Business
A student creates a database of opportunities for Pravah local youth volunteers/interns to undertake work experience with NGOs and INGOs. Support Pravah staff and volunteers to make connections.
Public Relations
A student researched opportunities for marketing Pravah amongst businesses and organisations as a viable corporate social responsibility option. Support Pravah staff and volunteers to build relationships and pitch the importance of youth development for India.
Professional experience with Macquarie Uni's PACE program: Pravah, India
Macquarie University PACE student Lowri gained practical experience working in India with PACE partner Pravah. Macquarie's International Professional and Community Engagement (PACE) units take students out of the lecture theatre and place them in the heart of community organisations around the world.
Student experiences
Shika Hegde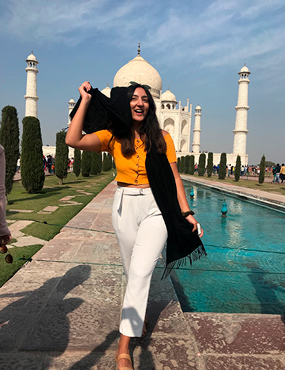 Q: What do you study and where did you go on your PACE International activity?
A: I study a Bachelor of Laws, majoring in International Law and Global Governance. I travelled to Delhi, India to work with Pravah, Delhi for my PACE International activity.
Q: What was your role or project at your host organisation?
A: My role at Pravah, Delhi was to communicate the Law, Policies and Legal options available to the youth in relation to issues concerning Early Child Marriage, Dowry Law, Domestic Violence, Sanitation and Sexual Reproductive Health Rights in India. My job was to essentially spread some awareness amongst the female youth and empower them to not only know but use their legal rights and options to deal with difficult situations Indian women are often faced with. The result of my research was a series of pamphlets that effectively summarise the law, policies, and options available to the youth in relation to the above prevalent issues. These pamphlets are currently in the process of being translated to Hindi and once translated they will be handed out and passed on to partner organisations throughout India during youth-led programs.
Q: What attracted you to the PACE International program?
A: The same year I applied I had just completed 6 months abroad in The Netherlands through the Macquarie International Exchange Program. As such, the prospect of participating in another international program stirred a feeling of overwhelming excitement in me. I view any international experience as a fantastic life opportunity with tremendous potential for self-development and personal experience. After studying in another country, I thought it would be an exciting adventure to work in another country!
Q: What advice would you give a student who is thinking of applying for a PACE
International activity?
A: Definitely apply! Apart from working with inspiring organisations that focus on creating real change, you're given the opportunity to experience living in a different country and truly understand the fabric of another culture.
Q: What was the best part of your PACE International experience?
A: My work at Pravah was definitely a highlight of my PACE International Experience. My work with the NGO has opened my mind to the mechanics of a different justice system through researching and understanding how laws are applied and enforced. It has deepened my understanding of the Law from an Indian perspective and has enhanced my passion for Human Rights Law and Diplomacy by working directly with Pravah to address complex social justice concerns embedded in India's youth. As a law student, I was deeply inspired throughout my placement at Pravah and continue to be inspired by their successes in facilitating change in today's Indian youth, giving them a voice, creating agency, and instilling awareness through empathy. Pravah is an organisation that is working on not only exciting but important work for the greater community of India and I am grateful for the opportunity to truly understand the impact of their work from a social and legal perspective.
Henry Downing
"My experience overseas allowed me to apply skills that I have learned through my degree in an environment that I would have not usually had access to. The work was challenging and exciting, but the most important aspect of the journey was the friends I have made in the process!"
Johanna Long
"Overall, the experience was so enriching for me personally as well as professionally. For people participating in this opportunity in the future, it is so important to be open-minded and easy-going in order to make the most out of your experience. Jump into the culture, learn the language, eat the food, and make friends with locals from your organisation!"
Sajal Sehgal
"One of the best and most important experience I've ever had in my life or will ever do. It's not just an ordinary internship, it's more than what you'll ever expect."
Maya Obirek
"PACE International was an eye-opening experience that I will treasure for the rest of my life. It was challenging and rewarding that has brought me many new friends and unforgettable experiences, making it undoubtedly the highlight of my degree at Macquarie University."
Leesa Chen
"PACE International has opened my eyes to the real world beyond what the media and business books want you to know. You realize behind the cloud of opportunities, there is a society that demands sustainable development and this is how one individual like myself can make an impact. A changed perspective of the international community truly transforms the way you see, think and do in everything you do. From studies to career and beyond, a realistic approach opens yourself to new ideas and opportunities."
Reshma Zachariah
"PACE International will be one of the most rewarding experiences a student can undertake whilst at Macquarie University as it gives you an opportunity to make a real change within the global community. PACE International will give you the opportunity to make life-long friends and also develop skills in areas unknown to you before... I would wholeheartedly recommend PACE International to any student who is up for a challenge."