Build your employability skills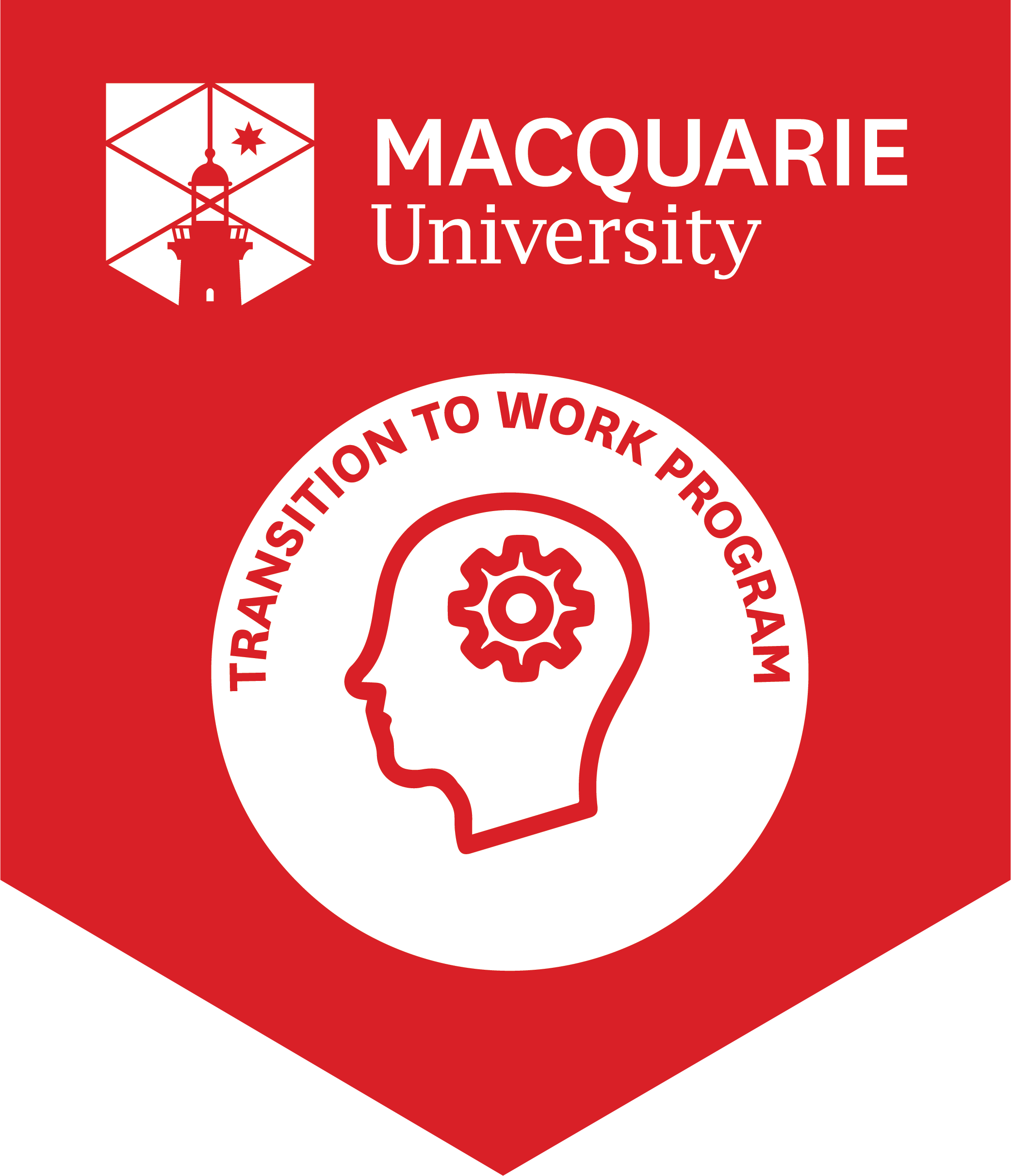 Delivered by Careers and Student Employment, this interactive program offers the opportunity to final year students, and recent Macquarie graduates, to upskill and learn the key secrets to getting hired and building a career!
The program consists of five mandatory workshops, over the course of the session delivered on campus, plus additional elements as listed below.
Eligibility
Undergraduate and postgraduate Macquarie students who are in final year
Recent Macquarie alumni (graduated 2021 or later)
If currently enrolled as a student, must be enrolled at Macquarie for Semester 2, 2023
Domestic and international students from all faculties at Macquarie University
To be awarded the Transition to Work Program Certificate, all participants MUST:
Attend in full all 5 transition to work workshops (dates below)
Attend at least 1 general careers workshop, 1 approved employer presentation and 1 Careers advice appointment (booked through Employability Connect) between 8 March and 9 May 2023.
Spend a minimum of 5 additional hours developing their skills on an individual basis (e.g. completing the program workbook, preparing application documents, creating their LinkedIn profile, and other homework tasks)
Program content
The program will cover:
Researching your career options
Exploring career pathways
Job hunting
Applications including resume and cover letter writing
Interview preparation
Assessment centres
LinkedIn and networking
Transitioning to work, and much more
2023 S1 program dates
Workshop 1 - Wednesday 8 March 1pm - 3.30pm
Workshop 2 - Wednesday 22 March 1pm - 3.30pm
Workshop 3 - Wednesday 5 April, 1pm - 3.30pm
Workshop 4 - Wednesday 26 April 1pm - 3.30pm
Workshop 5 - Wednesday 10 May 1pm - 3.30pm
Program benefits
Develop key employability skills and get a head start in all things careers.
Know your value to employers and learn how to market yourself successfully to organisations.
Learn how to prepare an effective real-life application.
Increase your confidence and competence.
All students who complete the program receive a certificate of completion.
The program will be included in your Australian Higher Education Graduation Statement (AHEGS)
Apply now to secure your place.
Spots will be allocated in order of receipt of application.
Applications close 28th February 2023.
Testimonials
"PDP was a platform which helped me gain greater insight into the perspective of an employer and some efficient methods to stand out as an employee. Soon after my successful completion of the program, I was able to secure an internship with an engineering firm due to the cold calling techniques covered in PDP. I got in touch with the recruiter of the firm through cold calling and was able to send in a direct application which eventually led to the internship. This added to my skills, experience and resume which played a part in my achievement as NSW International Student of the Year 2018 Finalist."
"I really enjoyed this program! I wanted to thank you for forcing me to put myself out there and encouraging me to socialise. If it weren't for PDP, I would've still be lost not knowing what to do or how to do things appropriately."
Devina
"Was offered an internship after a coffee meeting - 2 full-time job offers via LinkedIn. Gained greater confidence during the overall job application process especially on resume and cover letter writing. I now have a better understanding of my values and how I can use to help my career planning."
Lorenzo
"I was able to apply some of the learnt interview skills from the program to a recent interview and that helped me score an internship. So I am very satisfied with the outcome of the PDP for me. My favourite part was the mock assessment centre session. It was very engaging and made me learn a lot about the kind of person I am in a teamwork setting."
Zainab