On-campus vaccination hub for COVID-19
12 May 2021
Eligible members of the local healthcare community may get vaccinated against COVID-19 on campus soon.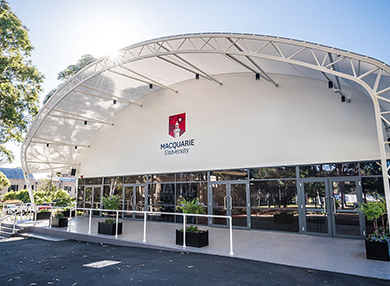 A new COVID-19 vaccination centre will be established in the Marquee, 18 Eastern Road at Macquarie University to provide Pfizer/BioNTech COVID-19 vaccines to aged care and disability care workers under the age of 50.
The facility will operate from:
noon – 10pm on weekdays
8am – 6pm on weekends
Eligible healthcare workers will be able to make appointments through an invitation-only platform.
All recipients will be required to provide:
proof of employment at an aged-care facility or as a disability care worker and,
photo ID before receiving the vaccine.
This facility is part of a collaboration between Macquarie, the Federal Government and Sonic Healthcare – a renowned healthcare provider with specialist operations in general practice medicine, pathology, and radiology.
Macquarie University is delighted to partner with Sonic Healthcare, with the support of Federal Government funding, to provide a facility on our campus, that will contribute to the vital national effort to vaccinate against COVID-19.
Sonic Healthcare has been contracted by the Federal Government to provide the vaccination service on the Macquarie University campus, in addition to other similar hubs in the wider Sydney area.