GLP info for postgraduate students
As future global leaders, Macquarie's postgraduate GLP will equip you with the skills you need to become a responsible global citizen alongside diverse leaders from a range of academic disciplines.

Eligibility
Attend six think tanks
Complete a Practicum
Have access to a range of exclusive opportunities on and off campus including our Innovative Leader Speaker Series, Foreign Affairs Speaker Series and Symposia Series
Information
All currently enrolled Macquarie postgraduate (including HDR) students undertaking study for an award are eligible to join GLP.
You can find out more by attending a mandatory Welcome Session at the start of Session One or Session Two.
To begin your leadership journey, register for the postgraduate GLP on Thrive using your OneID and password.
Think Tanks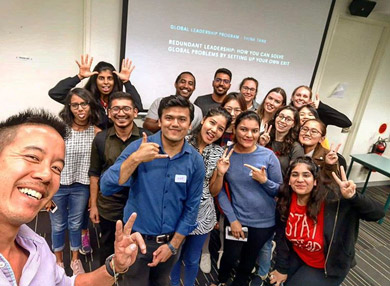 Critically engage with some of the most compelling issues affecting our world today through the GLP Postgraduate Think Tank Series. Led by experienced professionals and academics at the cutting-edge of international research, Think Tanks support the leaders of tomorrow by learning from the lessons of today.
The GLP Think Tank Series will help you to gain an unparalleled insight into global challenges through a diverse range of interactive, 2.5-hour workshops held on Macquarie's North Ryde campus.

To successfully complete the GLP program you need to attend six Think Tanks over the course of your studies. Each Think Tank has a compulsory pre-reading that you must complete beforehand.
Benefits
The GLP Think Tanks will enable you to:
Gain unmatched access to the knowledge and insight of industry leaders, including distinguished Macquarie academics, external consultants and NGO staff members.
Make informed arguments about important global issues. Discuss and debate climate change, poverty and social inequality, gender economics and Indigenous rights with like-minded GLP students.
Turn your passion into action. Develop innovative, entrepreneurial solutions to the some of the world's most pressing problems.
Build professional skills in leadership, international business negotiations and cross-cultural communication.
Previous topics
The Role of Business in Delivering the UN SDGs
Microfinance in the context of leadership, inequality and financial exclusion
Believe Me When I Tell You: High Impact Public Speaking for the Modern Leader
International Humanitarian Law
Practicums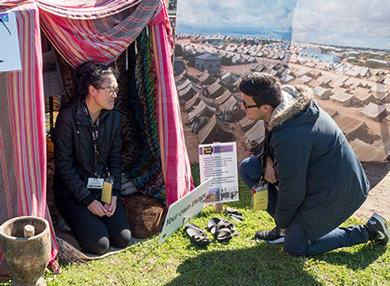 In a globalised world, graduates need to understand, adapt to and practice concepts that professionals ten years ago could not have imagined. The world of work is rapidly changing with the introduction of new technologies and entrepreneurial ideas that will transform traditional jobs.
Give yourself a competitive edge as a global leader and citizen and prepare for the future of work with the Practicum component of the GLP. Postgraduate students will engage in a practical experience that has a focus on cross-cultural or international themes, leadership, innovation, or entrepreneurship.
Whatever option you choose, you will have the opportunity to gain new skills and experiences, expand your professional networks and create positive change in your local or international community. As part of your cross-cultural experience you can:
attend an approved overseas Macquarie short course or study tour
undertake 40 hours of a cross-cultural internship or volunteering in Australia or overseas
Previous GLP students have:
Embarked upon a session-long cultural exchange to Hong Kong, studying international law and human rights
Demonstrated leadership as an International Student Ambassador
Inspired high school students from a refuge background as a Mentor
Networked at a conference on design, technology and social change and the future of work
Completed a unit of study on business sustainability at the Schulich School of Business, Toronto, Canada
Developed their entrepreneurial skills by completing the Macquarie Incubator 10-week Guo Program
Interned with the Climate Council of Australia, contributing to work on global coral bleaching, extreme weather, renewable energy and international action on climate change
Innovative Leader Speaker Series
Gain a unique insight into the leadership and innovative approach of professionals who are at the height of their careers. Follow their personal journey as they strived to create positive global social change and learn practical tools from their lessons and insights to inspire your own entrepreneurial or leadership journey.
This esteemed annual event is held at the Macquarie University North Ryde and hosts GLP students and members of the wider community for a keynote address, followed by Q&A and a facilitated networking session with drinks and canapés.
Previous speakers
Dr Nicole Kalms – Associate Professor in the Department of Design at Monash University and founding Director of the XYX Lab, which leads national research in Gender and Place
Nick Williams – Astrophysicist and Humanitarian Product Designer, Co-founder of Sempo, which uses blockchain-based solutions for improving financial inclusion in developing countries
Noelene Nabulivou – Political Adviser to Diverse Voices and Action (DIVA) for Equality, grassroots educator, feminist lesbian researcher, activist, and social organiser in Fiji and the Pacific
Dominic Campbell – Founder of FutureGov, which supports digital and design-led transformation for public services for the digital age.
Foreign Affairs Speaker Series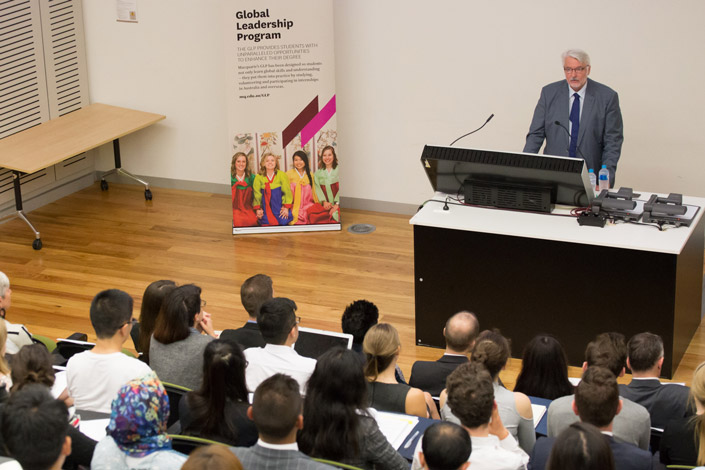 Connect with leading professionals, diplomats and NGO representatives involved in foreign affairs and gain diverse perspectives on a range of international issues. Ask the questions you want to ask in this free, on-campus event.
Previous speakers
Archie Law – Humanitarian Director of Save The Children Australia
Molly Harris Olson – CEO of Fairtrade, Australia
Dr Fabio Spadi – Counsellor and Deputy Head of Mission, European Union Delegation to Australia
Dr David Hammond – Research Director, Institute for Economics and Peace
Mr Damien Miller – Assistant Secretary, Soft Power, Partnerships and Research Branch, Department of Foreign Affairs and Trade
Mr Witold Waszczykowski - Minister of Foreign Affairs, Poland
Mr Chris Vein – Partner for Global Government Digital Transformation, PwC and Former Chief Innovation Officer, World Bank
H E Mr Abdolhossein Vahaji – Ambassador of Iran
Local, Regional and International Symposia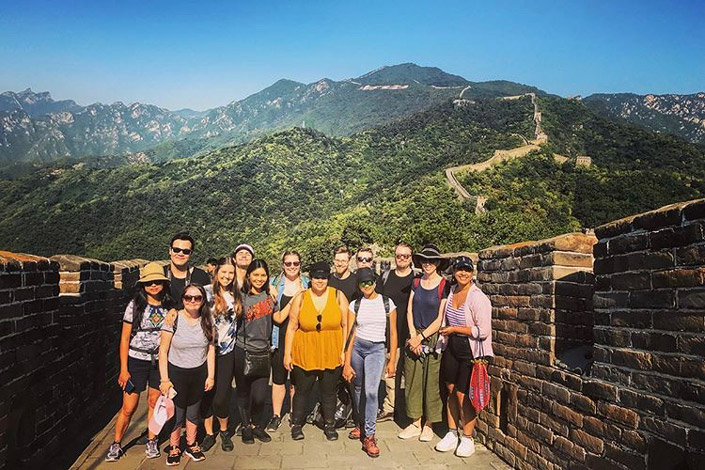 Develop a greater understanding and appreciation of the modern world through our interactive symposium series.
Held in Sydney, around Australia and overseas, the GLP symposia provide a unique view into the social, political and economic workings of our communities through exclusive briefings with local leaders, engagement with community groups and historical overviews of the area.
All symposia incur participations costs. Funding support may be available for students from equity groups, please contact GLP staff to learn more.
Local Symposia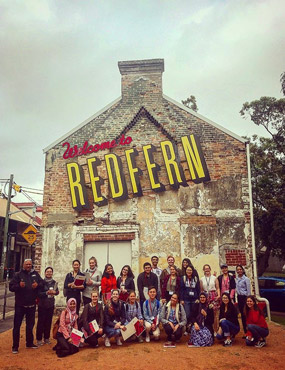 Explore Sydney's multicultural hubs and further your understanding of their social, political and economic history.
You will be given the opportunity to:
hear from migrant, community and religious leaders at exclusive briefings
discover exciting new flavours at local eateries
forge friendships with like-minded GLP students.
The GLP runs cultural days to Auburn, Cabramatta and Redfern, where we work with local councils and community organisations to promote cross-cultural initiatives and celebrate diversity in their region. As thriving hubs of diverse cultural backgrounds, these suburbs highlight how patterns of migration have shaped Australia and reflect how national decisions and events have played out on a local level.
Innovation Day
In 2019, the GLP expanded their local symposia to include Innovation Day, an introduction to Sydney's start-up ecosystem and innovation landscape.
With visits to incubators, start-ups and social enterprises, you will:
gain first-hand advice from entrepreneurs
develop your creativity
experience the innovation process.
Regional Symposia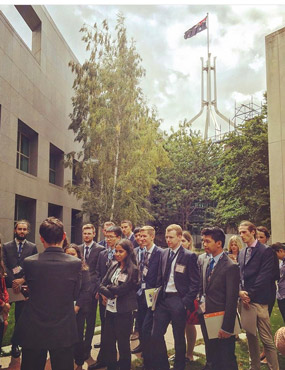 Learn integral themes of leadership, international awareness and political history at Australia's democratic and diplomatic core, Canberra.
Through a suite of private briefings with diplomats, academics and professionals, you will experience insight into the political, historical and cultural identity of Australia.
International Symposia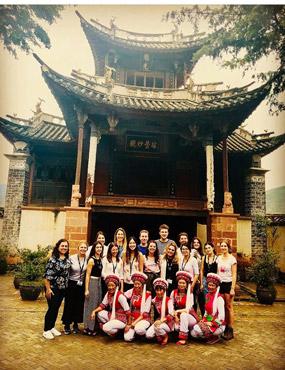 Learn about the cultural, economic, social and political dynamics of a country and its region through the GLP International Symposium.
Through meetings with:
non-governmental organisations
multilateral organisations
corporates
diplomats
local and international leaders
you will have the opportunity to broaden your understanding of global issues, including:
cultural diplomacy
governance
international business and trade
local language
civil society.
Cooking classes, walking tours and visits to historical and cultural landmarks means many bucket-list items are ticked off!
Previous International Symposia have travelled to:
Singapore
Thailand
Turkey
Brazil
China
Contact us
GLP Office
Macquarie University
Level 1, EMC2 Building, 3 Innovation Drive NSW 210
Related links