GLP Excellence Award Winners
Hear about how our students are benefiting from their Global Leadership Program experience.
Leonie Nahhas
Bachelor of Arts majoring in Primary Education and Psychology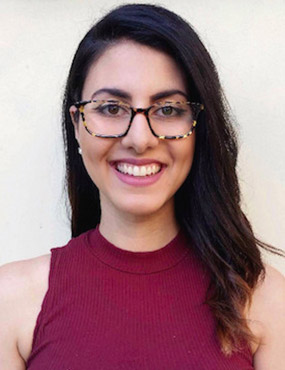 The most important thing I've learned from the GLP so far is...
is the value of what it means to think global, act local and start personal because by nurturing this mindset we can begin to instigate the change we want to see in this world.
I want to be the kind of leader that…
challenges the hierarchical pyramid structure of the leader as a dictator and instead practice service leadership by being perceptive and responsive to the needs of others, and to facilitate and empower team members to meet and surpass their personal and professional goals.
My dream job would be…
to contribute to the United Nation's youth engagement and advocacy efforts across all four pillars of the Office of UN Secretary-General's Envoy on Youth: Participation, Advocacy, Partnerships and Harmonisation.
My top tip for future GLP students is…
to engage whole-heartedly in all aspects of the GLP. Be curious, ask questions, seek answers and be open to being challenged – these are the essential qualities of change-makers. Being part of the GLP is a commitment to grow and evolve as an individual and as a collective. With this in mind, journey with your GLP peers and keep the conversation of social change going. This meaningful dialogue will foster critical and creative thinking to explore these issues more deeply and in doing so, turn passion into action.
Global Leadership Entry Program/Macquarie Leaders and Achievers Pathway Students
Brittany Gilchrist
Bachelor of Advanced Science specialising in Biology
Commenced in 2015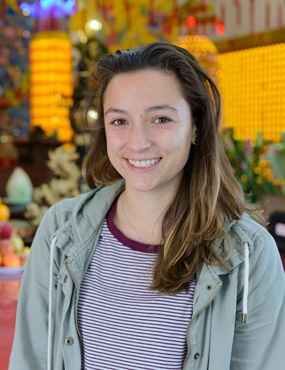 I was attracted to the Global Leadership Entry Program because…
I wanted to carry the types of activities that I had done at school with me into University life. I was interested in leadership, travelling, engaging with communities and meeting like-minded people from different disciplines and cultures – the GLEP seemed like the perfect fit.
What would you say has been the highlight for you so far at Macquarie?
This is a tough question. The Macquarie community is exceptionally encouraging of your endeavours – whatever they may be. For me, it was fantastic to be working alongside senior researchers and interning within the Biology Department where I investigated antibiotic resistance and the global spread of Influenza. Having such exposure, especially as a first-year student, was definitely a highlight.
The best part about getting a GLEP offer is...
The reassurance of entry into your desired program and already belonging to an inclusive community at University that will support your values and ambitions.
My top tip for future GLEP students is...
Have a go at activities and Colloquia that are out of your study area and comfort zone! It really helps you diversify your perspective and you never who you may meet or the new-found interests it could spark.
Global Leadership Program Alumni
Shantell Lee Bailey
Bachelor of Social Science majoring in Criminology and Bachelor of Laws
Graduated in 2017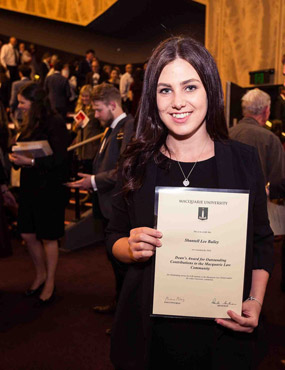 Upon reflection, what was the most rewarding thing about participating in the GLP?
The most rewarding thing about my GLP experience was getting out of my comfort zone to learn about things I'd never even thought about and jumping into the deep end by taking up opportunities that I never could have imagined! My GLP journey took me all over the world from Central Australia to consult with Indigenous Leaders on some of Australia's toughest legal and social challenges, to Austria where I was able to engage in a short-term exchange studying human rights and international law in a global context. I then went to California where I was one of 30 student delegates selected to be part of the World Indigenous Law Conference, which was a gathering of first nations legal professionals from across the globe to discuss real-world challenges for Indigenous peoples and communities.
These experiences also encouraged me to complete a number of internships with different organisations including the Salvation Army, The Aspiration Initiative, Redfern Legal Centre, Gilbert + Tobin, and Allen's Linklater's, all of which contributed to extending my understanding of the world.
My career highlight since graduating has been…
Receiving a number of graduate offers for 2018 including for the Attorney-General's Department and the Australian Securities and Investment Commission.
My top tip for GLP students is…
My top tip would be to jump in and go along for the ride! GLP is an amazing experience which adds a whole extra level to your degree. You walk into the program often with little understanding of how much you don't know about the world, and walk out with an intense and passionate interest in the world around you!
Contact us
GLP Office
Macquarie University
Level 1, EMC2 Building 3 Innovation Drive NSW 2109
Related links