Social learning space on campus
Due to COVID-19 restrictions, BASSLINE is currently closed.
Whether you need a space for individual study, group work, or even a nap, Bassline has plenty to offer for students.
Bassline is a place where you can:
recharge your device
connect to the University's wired internet
have a vigorous debate over the content of your group project
find a quiet corner to escape your hectic day for an hour or so
meet with your student club
eat lunch in the comfort of a bean bag in an air-conditioned area.
At Bassline, you can access the following services:
Internet
Printing
iPrint lets you print from anywhere connected to the Internet and pickup from multiple locations on campus, anytime you like.
Just tap your campus card (or other authorised card) at any iPrinter to collect your documents.
Large flat-screen monitors
There are many flat-screen monitors around Bassline, ready for you to plug your laptop straight in!
The monitors are great for group work, or when you want to see something on a big screen. All you need is an HDMI port on your laptop and a cable.
Other amenities
You will find toilets, vending machines, water stations, and microwaves in this space.
Room bookings
Rooms in Bassline can be booked online by students.
To make a booking:
Log in using your MQ OneID password
Click on the Schedule tab to check availability of the rooms and guidelines for use
Select a suitable time slot available and make a booking
In booking these rooms, you agree that:
you will use the room for your allocated time slot and
will vacate the rooms at the appropriate time for other bookings.
The floor plan below shows you the locations and numbers of the rooms.
If you agree to the above mentioned, make a booking now.
Students can book:
any rooms highlighted on the map below
between 8am and 6pm, Monday to Friday
up to 2 hours a day, and up to seven (7) days in advance
for one to up to 20 people, depending on the size of the room (minimum group attendance may apply.)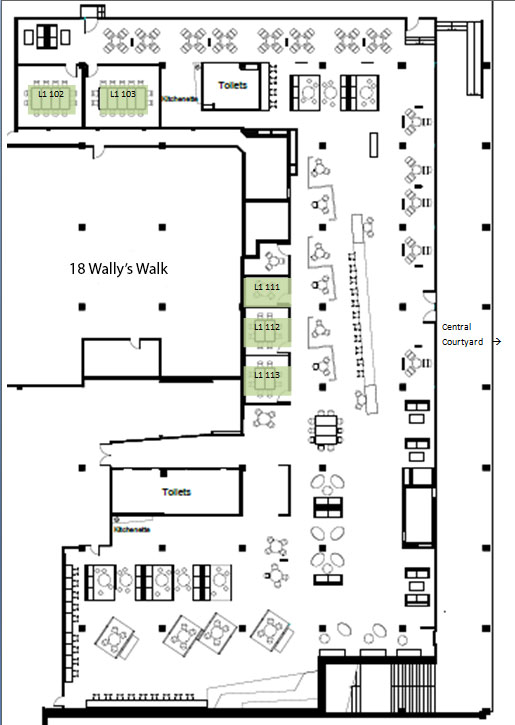 Opening hours
Monday to Friday: 7am – 10pm
Saturday to Sunday: 10am – 6pm