Hungry? Choose from a world of food options on campus
Set your senses alight at The Hub, with dining outlets from around the globe – including Vietnamese, Middle Eastern, Malaysian, Indian, Mexican, Chinese, Japanese and Korean dining choices – as well as juice, coffee, burgers and UBar's famous pizzas.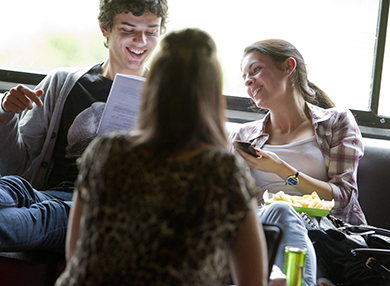 Take a break and catch up with friends for coffee and café classics at one of the many spots around campus. If you're after something more formal, the Staff Café and Lachlan's Restaurant provide seasonally-inspired menus, soothing ambience and space to unwind.
Food outlets at The Hub – 1 Central Courtyard
1919 Lanzhou Beef Noodle – Chinese
BAP Korean – Korean
Boost Juice – Juice and Smoothies
Chatime – Bubble Tea
Cult – Bakery/café
Eat Istanbul – Middle Eastern
Iguanas Mexicana – Mexican
Indi Go-Go – Indian
Lashings – Burgers
Little Asia – Noodles
Monster Sushi – Japanese
PappaRich – Malaysian
Roll'd – Vietnamese
Soul Origin – Café/Coffee/Salads and Wraps
St Laurent Coffee – Café, Coffee
Sushi World – Sushi and Japanese
Taste Baguette – Baguettes, coffee, bakery
Ubar – pizza and bar
Food outlets in the wider campus
(BREW) us – MGSM Café
4RPF Café – café in 4RPD
Crunch Café – café in sports and aquatic Centre
Cult – café in Faculty of Arts (2 locations)
Lachlan's Restaurant – MGSM Restaurant sit down dining
Library Café – café in the library
MQH Café – café in MUH
Piccolo Lane – walk-up coffee cart with some general café food
Staff Café – sit down dining
Wally's Walk Cart – walk-up coffee cart with general café food
Piccolo Me – café in the Australian Hearing Hub