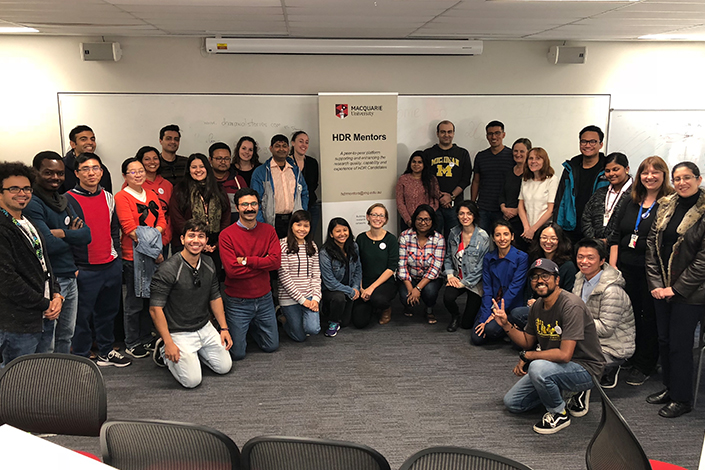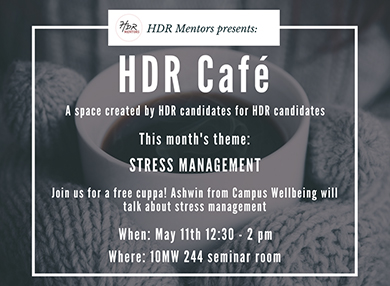 Since its inception in 2016, the HDR Café has been a space for HDR students from across the university to meet and mingle over morning tea. Previous HDR Cafés have focused on giving HDR students the opportunity to practice academic soft skills such as elevator pitches or conference networking skills.
In May, HDR Mentors collaborated with Campus Wellbeing to address an issue close to their hearts: Stress management.
The workshop was led by Ashwin Singh (Allied Health Advisor, Campus Wellbeing) who invited participants to reflect on the stressors they have encountered on their HDR journeys. The circa 40 MRes and PhD students shared their personal strategies for coping with various forms of stress. This may sound like a group therapy session, it was anything but!
The workshop was solution oriented and reiterated the importance of self-care and social interaction. Ashwin introduced participants to a quick and effective way of deep breathing that helps alleviate stress and focus the mind. Such techniques are particularly relevant for HDR candidates who may feel increasingly overwhelmed and isolated in their research.
Conversations among participants revealed that worrying and experiencing stress is part of the HDR journey. However, regulated levels of stress can also have a positive impact. Although worrying can sometimes distract us, Ashwin suggested a technique where we 'make an appointment with our worries'. During this designated period, we can allow ourselves worry. The rationale behind planning worry time is that this enables us to take control of our stress, instead of letting stress take control of us.
HDR Mentors hope that by sharing our own experiences, participants feel they are not alone and always have someone that they can turn to.
Here are some reflections from participants..
"The HDR café 'Stress Management' talk was very helpful in building coping mechanism to deal with academic and life stressors during our HDR journey. It is always enlighten to connect with other students with many of the same academic and life concerns. It felt great to know that you are not alone and we have solid support system here to make our HDR journey a better experience for us. During the session, we were shown easy yet effective stress-reducing techniques which I use and it has changed the way I manage my work to be more productive. The whole process of session was very smooth and professionally handled. Thank you HDR Mentors and Ashwin for giving me such a positive and refreshing session!" - Sandy Arief. PhD Candidate
"It was my first time to join the HDR Cafe. I felt that I'm not alone during my research journey and can share my thought with other peers. Although at the beginning of the session, I thought that I don't have any stress, I felt down and lack of motivation. After having some conversation with my peers, I found that one of the reasons for feeling down was the stress of research. The session helped me to recognise my stress and to manage for defeating it. The help came from the technique from Ashwin and speech of other peers and HDR mentors who shared their experience." - Amir Chiti Zadeh, MRes Candidate
The HDR Café is run twice a year and suggestions on themes are always welcome. You can contact us via hdrmentors@mq.edu.au.