Showcase your Thesis!
Three Minute Thesis (3MT®) is an academic competition developed by the University of Queensland (UQ), Australia, for all Higher Degree Research (HDR) students.
MQ 3MT interviews on 2SER
Throughout November, each of our 2023 3MT finalists will feature in a 5-minute interview on 2SER radio's show The Daily. Like the 3MT itself, this radio spot is an excellent opportunity for our candidates to hone & demonstrate their research translation & oral communication skills.
If you can spare the time, please tune in between 10-11am on Monday, Tuesday, and Friday throughout November either online at https://2ser.com/ or via radio at 107.3 FM. A tentative schedule is outlined below but subject to last minute changes. If you miss one of the interviews, links to the recordings will be made available here.
Finalist

School/Dept

3MT Presentation Title

Tue 7

Department of Linguistics

How do Teachers Learn on Social Media?

Mon 13

Accounting & Corporate Governance

Modern slavery - the untold story of a wicked problem

Mon 13

Department of Management

Impact of Passionate Leaders

Tue 14

Maksym Mohorian

School of Mathematical and Physical Sciences

Unveiling Cosmic Alchemy with Stellar Fossils

Tue 21 (tbc)

Frigg Janne Daan Speelman

(MQ Winner)

School of Natural Sciences

Children of divorce: what we can learn from the animal kingdom

Fri 24

Khalia Ackermann

(Second Runner Up)

Australian Institute of Health Innovation

Investigating sepsis survivor health

Mon 27

Sadhana Singh

Department of Management

Guardians of Legacy: Exploring Factors Influencing Next-Generation Engagement in Family Firms

Tue 28

Jo DowlingSoka

Department of History and Archaeology

The Miracles of 626 CE

TBC

Deepak Chahal

School of Mathematical and Physical Sciences

Stellar Tantrums: The Evolution of Anger in Stars

TBC

Connie Henson

Health Sciences

Celebrating Indigenous participation and leadership in digital health

TBC

Tom Montefiore (People's Choice Winner)

Department of Philosophy

The Gamer's Dilemma: Intersecting Tasteless and Morally Impermissible Gameplay
2023 Asia-Pacific 3MT Semi-Final Showcase!
Over the next two weeks, two judging panels will review and select 8 finalists from the 56 competitors, to proceed to the 2023 Virtual Asia-Pacific 3MT Final which will be held via live stream, on Wednesday 18 October. Audience registration is now open. Voting for the People's Choice winner will take place during the live final so you'll need to register to take part.
The 8 finalists competing at the Virtual Asia-Pacific 3MT Final will be revealed on the 3MT website on Monday 9 October. Good luck Frigg! 🤞
On 7 September 2023, we announced the winners of the MQ 3MT competition! We would like to thank our fantastic judges and finalists for their involvement and support. Thank you to our People's Choice voters too - we are so pleased you participated.
Congratulations to our MQ finalists and winners:
Frigg's winning 3MT entry will be submitted to the University of Queensland and included in the 2023 Virtual Asia- Pacific 3MT competition. We wish Frigg the very best of luck as she represents MQ in this exciting competition!
PLUS a special prize for each of the 12 finalists: a spotlight interview on 2SER radio. Listen to the fantastic radio interviews with last year's finalists here.
Congratulations to our 2023 MQ 3MT Finalists - view their presentations here
"Storytelling Your Thesis" - workshop materials
Did you miss our recent "Storytelling your Thesis" workshop? Don't worry, you can access all the materials here!
Delivered by our own Dr Megan Brewer and Dr Jen Rowland, find out everything you need to know about entering and acing this competition!
Storytelling Your Thesis workshop recording
3MT info session recording
Info Session slides
Storytelling slides
"ABT template" handout
Copy of 3MT Info Session transcript
Why you should enter the Three Minute Thesis by Dr Andrew Dunstall
PhD research is a slow pursuit. Reading the literature, Conducting experiments or fieldwork. It's the steady inching towards results, and the crafting of the final thesis. It's three years and more of steady, relentless work.
And then, there's the Three Minute Thesis competition. A short talk in barely the time it takes to read a paragraph. The length of a pop song. Why is this a good idea?
Let me take just a little longer than three minutes to argue why it's a good idea to be a part of the three minute thesis competition (aka 3MT) or, if you're a supervisor, why you should encourage your PhD candidates to take part.
Essential ideas
The biggest reason in my view, for why every PhD researcher should give the 3MT a go is because of the gains you make in condensing your work into its essential elements. Synthesis is a demanding cognitive skill. Synthesising your research into a significant problem and solution is a requisite demand at the PhD level.
Every thesis, each chapter or article, must demonstrate this skill of combining relevant literature, phenomena, arguments, and evidence into a coherent piece. Practicing how to present that in just a handful of sentences is a valuable exercise. Feedback on how well you've done that so is PhD gold in the bank. It's an intensive laboratory for communicating your research.
Elevator pitches
That summarising work doesn't just help you with writing a paper. It also helps you when you're at conferences or networking with others in your field. As a junior researcher, you'll be asked many times to give a quick summary of your research. Literally, in the elevator between classes; while standing in the lunch queue at a conference, or over drinks afterwards. Having that short pitch worked out and honed will mean you can convey the importance of what you do with panache.
Exposure
One of the great things about the 3MT is that, as an observer, you hear about so much interesting research in a short time frame. So, participating as an observer is fantastic for hearing about things you might never otherwise come across – research questions, techniques, advances in other fields.
Seen from the Researcher's point of view, this means exposure. It's publicity, for your field, your research topic, and your own abilities. The 3MT gives you a platform to share the topic you're passionate about, and the ingenuity and skill you bring to research. You're the hero of the story here, and a platform like this is well worth making the most of.
Putting all of this together, - the ideas, the pitch, and the exposure, you can see why it's worth joining in the 3MT even if you're not presenting. It's a platform where PhD candidates are the heroes. You see what PhD researchers are doing, and some of the topics, methods, and results of a broad range of cutting-edge research. Whether you're doing one, supervising one, or thinking about one – it's worth getting involved.
"How to win the 3MT" workshop materials
Did you miss last year's "How to win the 3MT" workshop on Zoom? Don't worry, you can access all the materials here!
Delivered by Pitch & Communication guru, Peter Browne and our own Dr Megan Brewer, find out everything you need to know about entering and acing this competition!
Megan's slides
Peter's slides
Watch our 3MT Editing video tutorials by Dr Megan Brewer
Topics and Timestamps:
02.35 converting Powerpoint slides in jpeg files
04.30 accessing and setting up Kapwing*
06.16 using Kapwing to add slide in top-right format**
14.46 using Kapwing to create "cut-to" format
21.44 vimeo set up Extra notes:
*nb that in this example I haven't created an account - one downside would be that you cannot save projects and you will have to do all the steps in one sitting
**forgot to mention that you need to download the file once done - see timestamp 18.45 for how that works See Part 2 if you want to learn how to use OpenShot Video editor for the "cut-to" format
This video covers using OpenShot Video Editor to create your virtual 3MT entry with the "cut-to" slide format. See Part 1 for instructions on how to convert powerpoint slides to jpeg images and vimeo set up
Judging Criteria - Revised (2023)
At every level of the competition each competitor will be assessed on the judging criteria listed below. Each criterion is equally weighted and has an emphasis on audience.
Comprehension and content - REVISED
Presentation provided clear background and significance to the research question.
Presentation provided clear positionality* of the presenter to the research and research approach.
Presentation clearly described the research strategy/design and the results/findings of the research.
Presentation clearly described the conclusions, outcomes and impact of the research.
Engagement and communication
The oration was delivered clearly, and the language was appropriate for a non-specialist audience.
The PowerPoint slide was well-defined and enhanced the presentation.
The presenter conveyed enthusiasm for their research and captured and maintained the audience's attention.
*Positionality
Positionality is the disclosure of how someone identifies (race/gender/class), their experiences, their privileges etc and how those things exert influence on their research. We have included this in the judging criteria to better inform the audience of how the presenter is positioned with regards to their research topic.
Positionality has been something that many 3MT presenters disclose naturally in their talks.
What proportion of the presentation might focus on positionality?
Guidance on the proportion of any elements within the criteria is not provided, this will depend on the flow and emphasis the presenter wishes to make. However, it should not be the main focus of the presentation, rather a scene setting/disclosure element usually towards the beginning.

Positionality - Judging
Judges should consider whether the presenter clearly articulated how they are positioned with regards to their research. For example:
- A Maori health worker researching the impact of health interventions in the Maori population or;
- A person researching climate change because they are from Tuvalu and they have seen the impacts of climate change firsthand with rising sea levels in their country.
- A student researching a gene mutation that may cause breast cancer because their mother passed away from breast cancer when they were younger.
2023 Competition dates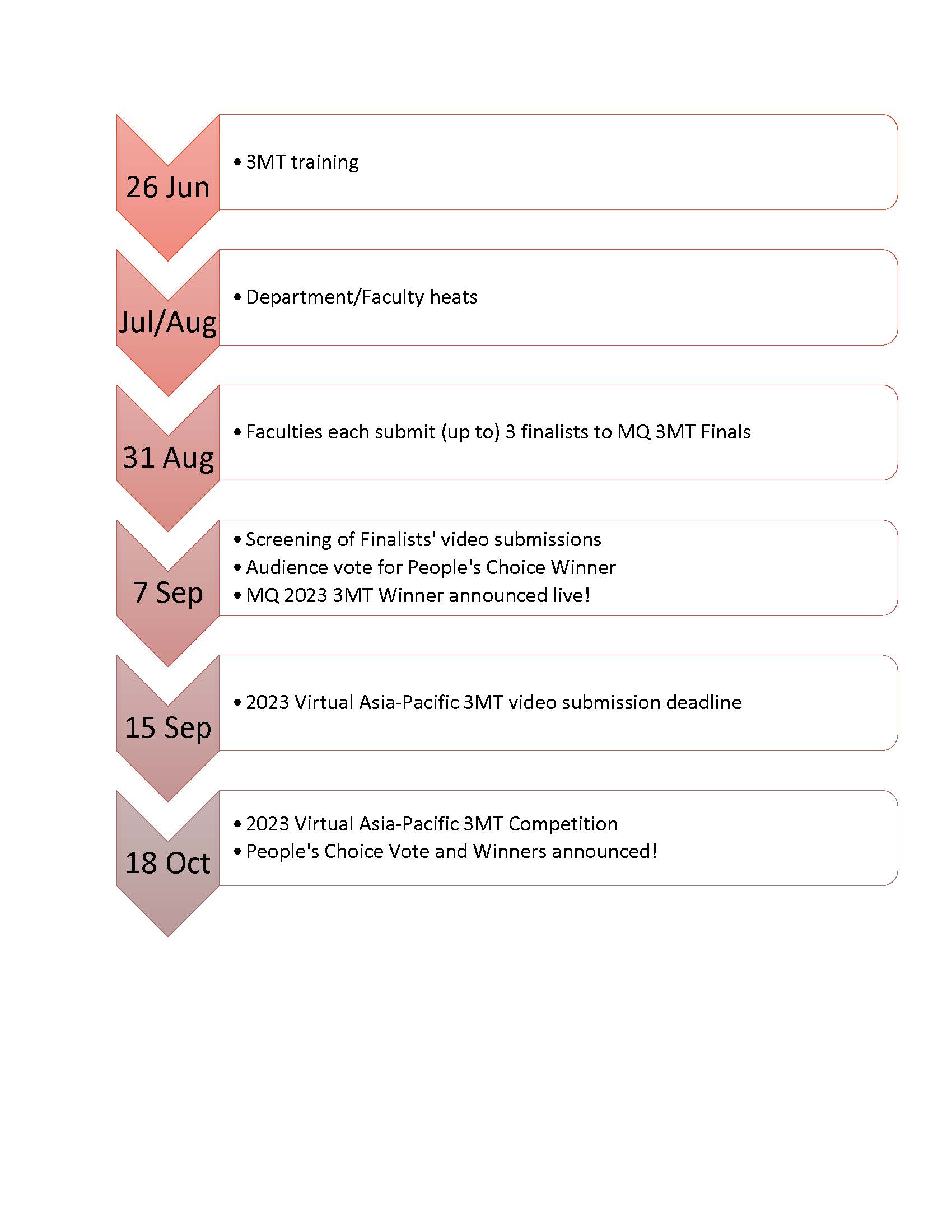 2023 Virtual competition
The University of Queensland (UQ) has made the decision to host the 2023 Asia-Pacific Three Minute Thesis Competition in a virtual format (video submission).
Information can be found below detailing the virtual competition format. Competitors can find additional information directly from the Asia-Pac Competitors Guide website.
Macquarie candidates participating in the Macquarie competition should download and use the Macquarie Identifying Slide for Competitors [PPT 1,118KB].
2023 People's Choice Voting
2023 Virtual format and rules
Competitors have three minutes to give an engaging and dynamic talk on their thesis topic, and its significance, in language appropriate to an intelligent but non-specialist audience. The talk should engage the audience without reducing the research to entertainment value only. As such, the competition does not trivialise or "dumb-down" research but forces students to consolidate their ideas and crystallise their research discoveries.
Modifications to the 3MT rules have been made to accommodate the new virtual format.
Presentations are limited to 3 minutes and competitors exceeding 3 minutes are disqualified.
Presentations are considered to have commenced when a presenter starts their presentation through speech (timing does not include the 3MT title slide and commences from when the competitor starts speaking, not the start of the video).
Videos must meet the following criteria:

Filmed on the horizontal;
Filmed on a plain background;
Filmed from a static position;
Filmed from one camera angle;
Contain a 3MT title slide;
Contain a 3MT PowerPoint slide (top right corner/right side/cut to).

A single static slide is permitted in the presentation (no slide transitions, animations or 'movement' of any description). This can be visible continuously, or 'cut to' (as many times as you like) for a maximum of 1 minute.
The 3 minute audio must be continuous – no sound edits or breaks.
No additional props (e.g. costumes, musical instruments, laboratory equipment and animated backgrounds) are permitted within the recording. Presentations are to be spoken word (e.g. no poems, raps or songs).
No additional electronic media (e.g. sound and video files) are permitted within the video recording.
The decision of the adjudicating panel is final.
Submissions via video format (only video link provided to Event Coordinators). Files sent in other formats will not be accepted.
Entries submitted for final adjudication to Wildcard or University Final are to be submitted from the School/ Faculty/Institute 3MT Event Coordinator. Competitors should not submit their videos directly to 3MT.
Note: Competitors *will not* be judged on video/ recording quality or editing capabilities (optional inclusions). Judging will focus on the presentation, ability to communicate research to a non-specialist audience, and 3MT PowerPoint slide.
2023 Eligibility
Macquarie University will be following the same eligibility, rules and judging guidelines of the Asia-Pacific 3MT Competition 2023, hosted by the University of Queensland. These eligibility, rules and judging guidelines are as follows:
Eligibility
Anyone who is active in a *PhD or *MPhil program (including thesis under submission) will be eligible to participate in 3MT. Graduates are not eligible.
* Note: degree must be at least two thirds research (definition drawn from Grant Guidelines 2006 for Higher Education Support Act (HESA) 2003) and must produce a thesis that is examined externally.
MPhil candidates are welcome to enter the Macquarie competition, but the national eligibility rules prevent them from progressing to the Asia-Pacific event.
Each Faculty will be holding heats during the coming months and the 9-12 winners of those heats will submit their video to compete in the Macquarie 3MT Final.
Prizes
Prizes for the Macquarie Winners 2023
Winner: $1000
Second Place: $500
Third Place: $250
People's Choice Winner: $250
Note: Prize money is to be used for research costs only and is not a cash prize.
PLUS a special prize for each of the 12 finalists: a spotlight interview on 2SER radio.
Prizes for the Asia-Pacific 3MT Competition 2023
Winner: $5000 research grant
Runner Up: $2000 research grant
People's Choice: $1000 research grant
Three Minute Thesis background
The Three Minute Thesis (3MT®) is an academic competition developed by the University of Queensland (UQ), Australia, for all HDR Candidates.
The first 3MT competition was held at UQ in 2008 with 160 Research Higher Degree students competing. In 2009 and 2010 the 3MT competition was promoted to other Australian and New Zealand universities and enthusiasm for the concept grew. Due to its adoption in numerous universities, a multi-national event was developed, and the Inaugural Trans-Tasman 3MT competition was held at UQ in 2010.
In November 2013, the first Universitas 21 (U21) 3MT competition was held with several universities from around the world competing in a virtual competition.
2016 brings an expansion of the Trans-Tasman 3MT competition to include a select number of Asian universities. The competition has now been renamed to the Asia-Pacific 3MT competition. Full details are on the 3MT website.
Macquarie University heats are run through the Faculties. For more information contact your Faculty Liaison Coordinators.
2023 Judging Panel
Prof Sakkie Pretorius (DVC Research)
Prof Simon Handley (PVC Graduate Research)
Prof Ronika Power (Professor, Department of History & Archaeology)
Previous Macquarie Winners